Thinking about your digital transformation journey?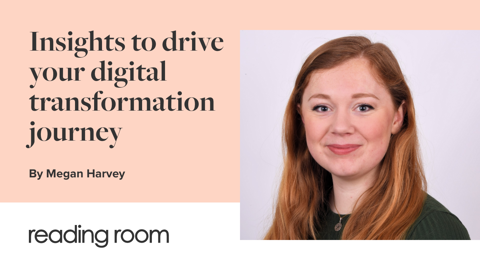 The yearly Digital Transformation Conference is an opportunity to share the challenges and opportunities that companies are faced with on their journey towards digital transformation. Although every organisation is unique, here are some key takeaways, experiences and learnings from across various sectors that you should consider when you embark on your journey.
Be driven by your consumer pain points and identify the biggest ones first.
Mark Williams from David Lloyds Leisure encapsulated this point well. Many companies are quick to jump on the next big thing in digital (AI, Podcasting, Threads), without first thinking how it might address the challenges of a consumer and meet objectives.
Addressing your challenges can be a daunting process and no business is without them. However, breaking it down into simple steps helps make the process more approachable. Think about size: what is your biggest problem that is affecting the most people? Think about audience: do some research about who this problem is affecting. It may not always be the audience that you think. Think about how digital can solve the problem: by defining the benefits, you can bring change and you can make your transformation measurable. In Mark's opinion, you should aim to make something 2x better than the current experience. The success of Uber would not have been as impactful as it was if you still had to wait out in the rain for the car to arrive.
AI is an answer and not a question.
AI can be utilised in ways that produces fantastic results in a digital transformation. It can also be used in ways that damage a brand, such as the over reliance on ChatBots which drives consumers up the wall.
In order to ensure that your use of AI in your digital transformation is for the better, AI should not be the question, but the answer - a statement by Nick Hodder at Imperial War Museums. At the end of the day, platforms such as ChatGPT are tools that can be used to solve challenges. You should always start with asking what a customer or consumer needs, rather than jumping the gun and applying AI wherever you can just for the sake of it.
Early adoption of AI process will enable a successful implementation. Hiring someone to oversee AI in any business is a great first step, which ensures that the data is audited before being plugged into AI. Shutterstock partnered with DALLE to train the AI on Generative AI to audit their massive image library and ensure that it is reflective of the diversity across the world. AI is only as good as the data you train it on, so when Shutterstock saw that its image library was dominated by a middle-aged white male demographic, their AI was at risk of seeing this as the norm. An example that Stefan Britton at Shutterstock gave of this was when AI was used for facial recognition door entry. Based on the data it was fed, a white male could enter 10/10 times. However, when different from that demographic in either race or gender, the more unlikely that person was to consistently pass the recognition system.
The camera was seen as the killer to artist, the same way the tractor is a killer to farmers. Therefore, it is our responsibility to use these tools in their prime, as they continue to progress our technical advances and help get the same job done but better than before.
Culture is the key to change, and digital transformation cannot happen without buy in.
A key topic in this year's conference was how to get people on board with digital transformation. James Freed from NHS Digital Academy highlights that digital literacy and skills are becoming increasingly standard, but they are not universal. Whilst we don't call it 'new media' any more, people can still be sceptical.
Buy in is needed at all levels of a business before you start your digital transformation journey. This ensures you have an effective change communications strategy, and consultation at the earliest stages will help you to change the culture in your business towards a digital-first mentality. Sometimes resistance towards transformation can come from the top, which can be a very big challenge, as digital change must be empowered by your leaders. In cases like these, awareness, data-driven evidence and customer centricity is even more important.
As digital transformers, it is our responsibility to put sustainability at the forefront.
Sustainability has been one of the hottest subjects of the 21st century and it isn't going away any time soon. As businesses commit to sustainability targets, it is important that they maintain awareness that digital is not a carbon neutral activity. For example, carbon emissions in 2021 increased by 20% as a result of more people using Teams and Zoom during the pandemic. We are expected to see a huge rise in the carbon emissions of digital activities as a result of the energy that is needed to host the servers. If your business is looking to embark on a transformational project, it is important to be working with a digital transformer who considers sustainability as a metric of success.
As we move towards a digital-first approach, the impact this has on sustainability is going to be huge, and companies need to consider all aspects of their digital product development. Content and platform technology will play a big part in this. As a digital agency, it is also our responsibility to make sure that we are educating, particularly as this is still something that we can have an early adoption and impact on.
Conclusion
'Digital' has revolutionised the way customers and consumers interact with a brand. There is no need to wait in line at the bank to transfer money. Digital has enabled speed and efficiency, but it is often still met with hesitation and challenges. This year's Digital Transformation Conference did a great job of highlighting the importance of people and culture in the transformation process, and the opportunities and tools that we have at our disposals which will help us to get to where we want to be.