Understanding the performance of your digital platform becomes possible through user testing, which helps identify factors that hinder customers from converting.
Discover opportunities through user testing.
User testing helps you understand your digital platform's performance by identifying what stops your customers from converting. Through utilising user testing in your strategy, you can validate your design decisions and inform future changes. 
By highlighting any blockers, it helps to inform what content to display at what moment, with the main goal being to drive more conversions.
The earlier you test your prototype, the more you can avoid 'getting it wrong'. You'll also be made aware of ways you can enhance your product and its market fit. 
Learn more about your prospects.

 
During user testing, researchers observe behaviour, record feedback, and follow up with questions on their expectations of your product. Watching users engage and interact with your project is the most effective way to know whether your design meets their needs. 
A good customer journey is defined by the user completing their desired action in the shortest amount of time. If a platform is challenging to use, the customer will leave.  
User testing is essential for a good customer experience because: 
It confirms whether your design complements your user journeys.

 

It validates if your digital platform is easy to use.

 

It highlights how people engage with your product, where they fail and why.

 

It provides insights into what users really think about the overall experience.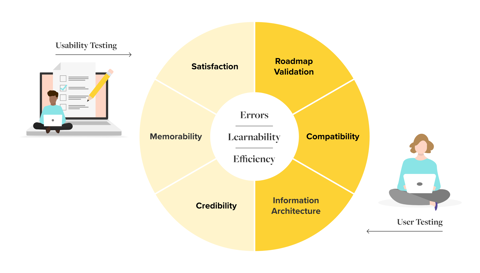 Let's get the ball rolling. 
We'll recruit users from existing engagement programs, online panels, or, from our sister research business. At this point, selecting users that fit our criteria is vital. Our screening procedure makes sure we've chosen the right participants that will provide insightful and high-quality responses.  
A testing session utilises specialist tools designed to retrieve the right information that answers the burning questions surrounding your product. With the plethora of tools and research techniques out there, we'll make you're using ones to meet your objectives. 
Tests are typically task-orientated. While users complete the task, we'll observe and question their behaviour. After testing, we'll analyse sessions and create a summary report with recommendations and actions for future improvements.