Redefining digital healthcare with Circle Health Group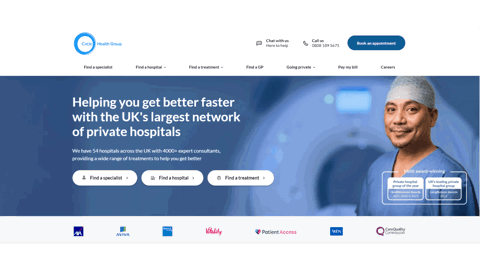 We are delighted to renew our commitment with Circle Health Group to redefine what patients can expect from their digital experience.
Founded in 2004, Circle Health Group (CHG) is the UK's largest national network of private hospitals. Renowned for merging clinical excellence with serene surroundings, CHG's patient-focused ethos has earned it sector wide acclaim, with the organisation winning prestigious "Private Hospital Group of the Year" for three consecutive years. Additionally, CHG is recognised as among the "Top 25 Best Big Companies to Work For" in the UK. The organisation offers a diverse range of treatments, including ground breaking rehabilitation and pathway management services and is renowned for being a pioneer in the independent healthcare sector.
As their philosophy states, "Good enough never is" and CHG is taking their commitment to patients and digital innovation seriously by renewing their partnership with Reading Room. Both organisations share a passion to revolutionise user experience. Expanding accessibility to healthcare through digital is key to getting patients the care they need. This strategic alliance marks an important milestone for CHG in their pursuit of digital excellence.
Reading Room and CHG first partnered in 2019 and since then have worked hand in hand to shape the look, feel and functionality on CHG's Sitecore based website. Since the landmark acquisition of BMI Healthcare in March 2020, our work with CHG has helped solidify their reputation as an industry leader in the use of digital. The partnership has already worked to completely redevelop and launch the CHG website, and successfully launch a new online booking platform which has seen consistently strong growth. In addition, the team created an extension of the online booking system which combines thousands of consultant appointments into a single search for users, showing availability based on location, appointment date and time.
With a shared commitment to progress, we were thrilled at the renewed partnership with CHG in June 2023. This agreement signals CHG's dedication to pushing the boundaries of innovation even further. Under this renewed collaboration, we will deploy a dedicated, fully agile team, seamlessly integrated with CHG's digital and technical experts. This unified approach empowers CHG's product owners to deliver their vision of a pioneering, user-centric digital platform.
Together we will embrace a philosophy of being a genuine extension of each other's teams, with this approach fusing the two entities into "one team," fostering immersion and collaboration. This relationship redefines traditional partnerships, underlining a shared goal of delivering excellence to patients.
Commenting on the partnership, Mark O'Herlihy, Chief Commercial Officer at Circle Health Group, said: "It's a pleasure to be working with Reading Room as our website development partner. We have collaborated with them for a number of years and the signing of this contract is an exciting new chapter in our partnership. We have a lot planned in the coming months and with Reading Room onboard, we are confident that we will continue to deliver on the promises we make patients across the country and improve our online presence further."

This shared vision of both Circle Health Group and Reading Room promises to deliver a series of game-changing innovations to CHG's digital presence over the coming months. We look forward to making good on our commitment to Circle and their patients.