Put your customers first with a digital solution that's secure and user-friendly.
Your unique digital experience awaits.
Often, your website will be the first time a customer engages with your brand. Its ease of use, feel and look can strengthen a customer's first impression of you. 
When it comes to web development, we move quickly. We thrive off collaboration, inviting you to feedback at each stage of the process. 
Data deep dives and user research are central to our processes. Our innate curiosity will help us explore and build something that encompasses your customers and their values. 
With years in the industry, we know every project has its ups and downs. But when you're working with us, you don't need to worry. Our internal agile practices, risk assessments and project management allow us to create space for flexibility throughout your digital journey with us. 
Celebrating individuality.
We understand that when creating a digital solution, it needs to be highly personalised to fit the qualities of your business. So, whether you're an eCommerce business or a public sector organisation, we'll select a solution that is reflective of you and your customers. 
We understand our CMS platforms. We also understand the needs of businesses and customers are individual. By staying up to date with the latest technologies and upgrades, our knowledge is continually evolving. 
Umbraco, Drupal, Sitecore, and Kentico are just some of the platforms we specialise in. We also know a thing or two about headless/de-coupled solutions, JavaScript, contemporary front-end frameworks such as React, and third-party system integration, if that's what your platform requires. 
Ready to help, whenever. 

 
Our specialists are on-hand to help you resolve any technicality, no matter how complex you think your problem may be. Our team are available to listen, answer questions and provide advice, at any stage of your digital journey with us. 
Having worked with the public sector closely for over 20 years, we're well equipped with the knowledge for following the Government's Digital Standards best practices.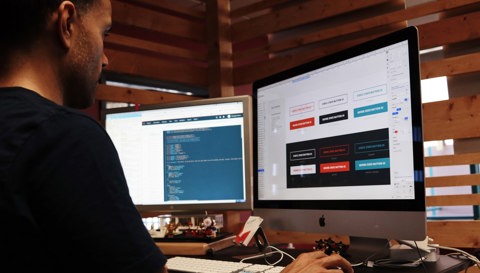 Other Design and Build Services