People may do a lot of their talking online these days, but they still live in the real world. We help you to understand the role digital communications play in the wider conversation.
Defining the role of communications.

 
Building relationships with your customers is just as much about emotional connection as it is about a great online experience. That's why communications planning should be part and parcel of your digital strategy. 
Once we've identified the behaviours you need to influence and the information that people are seeking, we can then work with you to shape the messages and content that will build connections with your customers.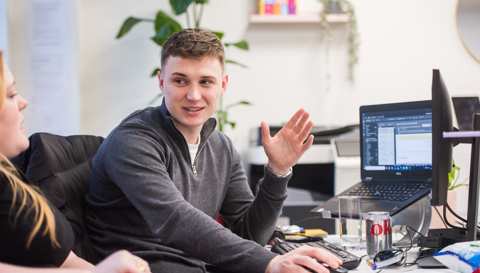 Keeping up the pace.
Conversations in the digital domain happen quickly. It's sometimes challenging to keep up, especially when you're talking to a diverse set of people (often all at once). 
The upside is that digital offers the opportunity for personalisation at scale. Combining clever tech with a data-driven approach means your messages will match customers' needs and preferences, regardless of where they are in their journey. 
We offer advice on the platforms, processes, and skill sets that will help you quickly adapt and publish your communications, even when unpredictable things happen.
Getting heard.

 
In a noisy digital world, it can be easy to lose the coherence of your message. A clear and distinct tone of voice will make sure your brand is noticed and remembered.  
Once we've understood what makes your brand tick, we work with you to shape your brand personality and define the dos and don'ts when it comes to communicating it through copy.  
You'll also get a practical style guide so that your digital communications can be produced consistently, at scale, from across your organisation.