We're proud to be the full-service digital partner for one of the UK's largest membership organisations.
About Unite the Union.
Unite the Union is a leading trade union, providing support to its members across a wide range of industries in the UK. We've been Unite's digital partner for over 9 years and counting.
Adapting to the shifting attitudes of the UK's workforce.
With interest in unions taking a dip in recent years, we were tasked to help Unite explore the needs and motivations of those who were not already union members. Their goal was to increase the rate of membership growth by ensuring the union remained relevant and appealing to a modern workforce.
Our challenge was to deliver insight around the perceptions of unions among the UK workforce, and develop a fresh, data-led digital communications strategy for Unite that will achieve their member recruitment targets.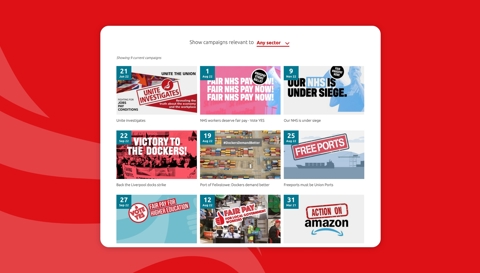 Understanding public perceptions of trade unions.
As an initial step, a series of workshops were conducted with Unite stakeholders to clarify goals, metrics, priority audiences, and brand identity.
We then used a representitive survey of UK workers and social listening to understand public perceptions and awareness of unions, identify motivations to join, and uncover their online habits.
This revealed that awareness was broadly very low, especially among young people, who saw little distinction between union brands. But, those who were aware, understood and related closely to the union's core purpose – championing workers' rights and campaigning for an inclusive workplace.
The disruption caused by the pandemic had also brought new challenges for workers. Many were actively seeking support to negotiate the issues that furlough, extended sick leave, and the threat of redundancy brought.
The resulting insights led us to identify, define and map the journeys of two audience groups that represented the best opportunity to grow membership – young people still in education or just starting their career.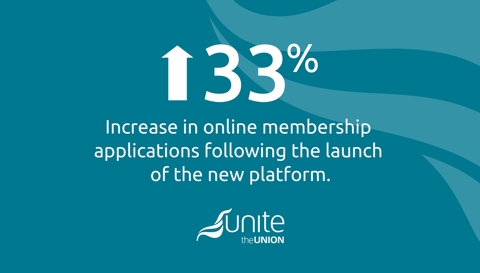 A communications approach to engage career starters.
We've used these insights to create a blueprint for engaging those new to work on the issues that matter to them, helping Unite to create more interest in union membership. 
With awareness a key factor in driving membership growth, we have also developed and are preparing to launch a creative campaign that will engage a young audience in the digital spaces they are most active.