Stakeholder engagement and workshops
They allow us to identify potential problems, generate solutions, and uncover valuable opportunities. Typically, workshops involve project teams and where possible, end-users.
Asking the right questions to the right people. 

 
Running a workshop requires careful planning and an experienced facilitator. You need to decide what questions you're going to ask, the activities you're going to run, and get the right people in the room before encouraging natural conversation.  
Once we've completed the workshop, it's time to recap and summarise the session. We'll work closely with you to distil knowledge from your workshop, translating thoughts into clear actions.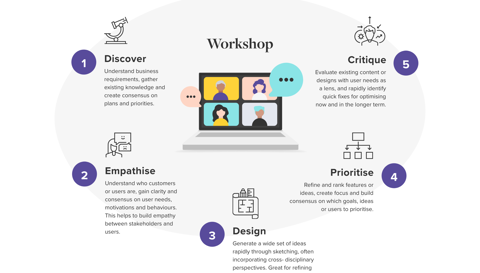 Which workshop is right for you? 
We'll help you decide what type of workshop you need to achieve your long-term goals. Workshops come in different shapes and sizes, but the most common are discovery, empathy, design, prioritisation, and critique.  
Discovery: Help us understand and align with your business requirements, gather existing knowledge, and create consensus on plans and priorities. 
Empathy: Identify your customers or users and gain clarity and consensus on their needs, motivations, and behaviours. It also builds empathy between stakeholders and users. 
Design: Bring together multi-disciplinary ideas and refine designs fast.  
Prioritisation: Refine and rank features or ideas, users, and conversion journeys to create focus. 
Critique: Evaluate existing content or designs with user needs as a lens. They also identify quick fixes for both immediate and longer-term optimisation.