Announcing the launch of the new Play Their Way website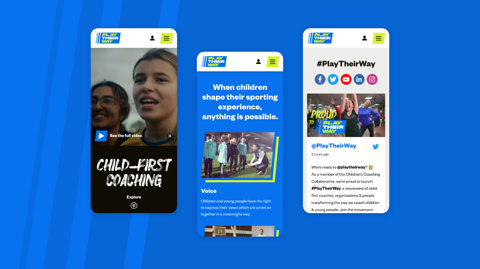 We are extremely proud to announce our collaboration with the Play Their Way movement! 
Play Their Way is a partnership between UK Coaching and the Children's Coaching Collaborative (CCC), funded by Sport England. This community champions every child's voice, choice, and journey in sports and physical activity, with a focus on respecting and promoting their rights. 
Having worked extensively with UK Coaching in the past, our team was asked to design and build the new Play Their Way website. The site includes a wealth of resources to support sports coaches, allowing them to put children's enjoyment in sport at the heart of their coaching sessions. 
By taking a child-first approach to coaching, sports coaches can give children the best experience possible.  
Delivered in Kentico 13, the site features include user accounts, single sign-on (SSO) with Google, and integration with a coaching compass tool. The insights provided by these features will help Play Their Way optimise its future content. 
It was an honour to work on such an important campaign and to join forces with UK Coaching once again. We look forward to many more exciting projects launching in the future.