Designing a new website for Abri Homes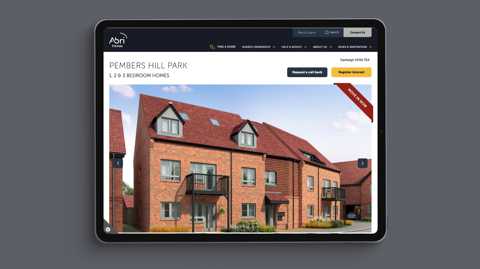 We are thrilled to announce that we have developed a new customer-facing website for Abri Homes.
Abri Homes was formed in October 2020 following a merger between the Radian Group and the Yarlington Housing Group, making them one of the largest housing associations in the South of England. Abri predominantly build affordable housing, helping people take their first steps on the property ladder and assisting those with low incomes who would not ordinarily be able to afford to buy property.
We were approached by Abri in late 2020 because of the work we had done with Countryside Properties. Our role on the project has been designing the front-end of the website which was integrated with the back-end by Abri's in-house dev team.
The design project has been delivered using an agile, component-based approach. This means we can mirror user flows through the site and provide the Abri team with greater visibility of the work that we are doing, enabling rapid feedback. In this way, we have been able to complete the project on a tight timescale over the course of only a few months.  
Having an external team working so closely with an internal team can be challenging, but we have found the process to be a smooth one. We are delighted and proud to have been able to collaborate with an organisation that is committed to social change and progress, building sustainable, accessible housing and inclusive communities.